Dell Wyse
Expand your horizons with the global leader in
Cloud Client Computing
The Dell Wyse portfolio includes industry-leading thin, zero and cloud PC client solutions with advanced management, desktop virtualization and cloud software supporting desktops, laptops and next generation mobile devices. Cloud client computing replaces the outdated computing model of the unsecure, unreliable, energy-intensive and expensive PC, all while delivering lower TCO and a superior user experience. Dell Wyse has shipped more than 20 million units and has over 200 million people interacting with their products each day, enabling the leading private, public, hybrid and government cloud implementations worldwide. Dell Wyse partners with industry-leading IT vendors, including Cisco®, Citrix®, IBM®, Microsoft, and VMware® as well as globally-recognized distribution and service partners.
Today, businesses and organizations across diverse industries and market sectors around the globe depend on Dell Wyse and our cost-effective, secure and energy-efficient desktop virtualization and cloud client computing solutions.
With Dell Wyse cloud clients, you can offer your customers now the broadest selection of secure, reliable, cost-effective zero, thin and mobile thin clients. These solutions easily integrate into any virtualized or web-based infrastructure while meeting the budget and performance requirements for any organization.

Secure:
They include no local data. ThinOS™-based thin clients are virus and malware immune. They feature secure desktop management, as well as support for smartcards, tokens and single sign-on authentication.
Energy efficient:
They use as little as three watts of power and off-load processing tasks from the server — creating a true low-carbon solution.
Easy to manage:
Dell Wyse cloud clients are self-managed, require zero hands-on maintenance and easily scale into the tens of thousands.
Cost effective:
They can be much less costly to support, maintain and power than traditional PCs.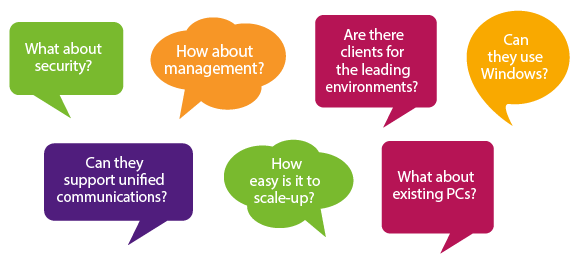 Appliance-based workstation virtualization
Easy adoption: Dell Precision Appliance for Wyse eliminates much of the complexity and need for in-house expertise traditionally required by many virtualization solutions, so a staff with limited experience can deploy a virtual workstation environment not in days or weeks but in just five minutes.
Efficient scalability: As your business needs change, the Dell Precision Appliance for Wyse allows you to scale your virtual workstation environment in a modular fashion to meet growing demands.
An end-to-end solution: The Dell Precision Appliance for Wyse can be purchased separately or as part of an end-to-end solution that includes validated thin clients, management software and service offerings.
Graphics-intensive computing, centralized and virtualized
ISV certification: Deploy and run workstation class workloads, such as Siemens PLM, PTC Creo software and more, with confidence knowing that they have been certified on the Dell Precision Appliance for Wyse.
High-performance user environments: Users can expect the same rich, high-performance experience of an ISV certified workstation-class application with the Dell Precision Appliance for Wyse as a traditional fixed or mobile workstation.
Dedicated or shared GPU: For maximum performance, enable up to three employees each with a dedicated GPU, or share GPUs with NVIDIA vGPU technology to enable up to eight users – and still experience brilliant workstation-class performance.
Reliable, controlled access: Permissions-based access grants users the ability to view and edit only the data they need as defined by your organization's governance policies.
Increased mobility: Enable collaboration just about anywhere, without compromising security, from a variety of endpoint devices, including multi-core thin clients and mobile devices. Since data is centralized, users can simply access what's needed from their endpoint device instead of having to download huge data files onto their device.
Keep your data in the data center: Because critical, proprietary data resides in the data center and not at the endpoints, it never leaves your data center, giving you extra peace of mind if an endpoint device gets damaged, lost or stolen.
Improve collaboration without compromising security