Dell XC Series of Web-scale
Hyper-converged Appliances
Fast forward IT services with hyper-converged
The Dell™ XC Series of web-scale hyper-converged appliances integrate Dell's proven x86 server platform and Nutanix web-scale software to provide enterprise-class, hyper-converged solutions for virtualized environments. Backed by Dell's Global Service and Support organization, these 1U and 2U appliances consolidate compute and storage into a single platform enabling application and virtualization teams to quickly and simply deploy new workloads. This solution enables data center capacity and performance to be easily expanded — one node at a time — delivering linear and predictable scale-out expansion with pay-as-you-grow flexibility.
XC Series appliances incorporate many of the advanced software technologies that power leading web-scale and cloud infrastructures such as Google, Facebook, and Amazon™ — but are engineered for all enterprises, regardless of size. Its key attributes include:
Hyper-converged
Seamlessly integrates server and storage resources in a self-healing system
Software-defined
Delivers all services through software using proven Dell hardware
Distributed
All data, meta data and operations are distributed across the entire cluster
Scale-out
Increases performance linearly by adding capacity one node at a time
Automation and analytics
Extensive automation and rich system-wide monitoring
Designed to simplify IT
XC Series appliances simplify the deployment of virtual machines in any environment. The Nutanix Acropolis Operating System runs in a Controller VM (CVM) on each node, aggregating storage resources (hard disk drives and flash storage) across all nodes. This pooled storage is made available to all hosts through a fault-tolerant architecture. With an unrivaled ability to run VMs out of the box, XC Series appliances deliver an easy, modular approach to building modern data centers.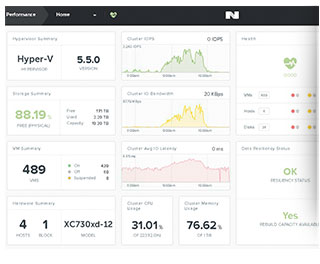 Ideal for virtualized workloads
XC Series appliances are excellent solutions for many workloads running in virtual environments. Preconfigured appliance options with flexible ratios of compute and storage including all flash configurations, coupled with support for VMware® ESXi™, Nutanix Acropolis Hypervisor (AHV) and Microsoft® Hyper-V®, make them ideal for running different workloads in a unified Dell XC cluster.
They can be easily integrated into any data center in less than 30 minutes, and can support multiple virtualized, business-critical workloads including VDI, private cloud, database, OLTP and data warehouse as well as virtualized big data deployments. IT and storage administrators no longer have to manage LUNs, volumes or RAID groups. Instead, they can manage their virtual environments at a VM level using policies based on the needs of each workload.
Intuitive and powerful
management interface
The Nutanix Prism Central management framework provides a highly intuitive, easy-to-use graphical user interface (GUI). All information is organized and presented through elegant touch points to facilitate easy consumption of operational data. Prism provides the ability to define and manage a complete hyper-converged infrastructure from nearly any device and includes REST APIs for integration with third-party cloud management systems.
Prism Central gives administrators a bird's eye view of resources across multiple clusters running different hypervisors and enables them to manage individual clusters using the GUI or a Windows PowerShell command-line interface.
The GUI simplifies configuration and management of replication, DR and compression policies, which can be applied to individual VMs. Compute and storage scaling and maintenance are automated through a simple, one-click add-node feature, auto-discovery protocols, and a non-disruptive, one-click upgrade of the Nutanix CVM and host hypervisor.
Cluster Health provides comprehensive monitoring of VMs, nodes and disks in the cluster. It proactively flags potential issues in the hyper-converged infrastructure stack and provides the ability to visually navigate issues by grouping and filtering resources at VM, host and disk levels.